Point us to the junk, We'll take care of the rest!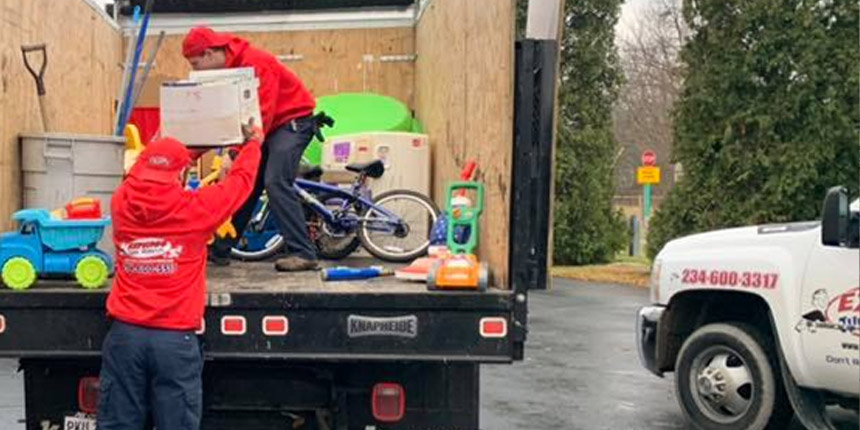 Express Junk Removal is your go-to partner for all junk and trash removal needs. We are fully insured, guaranteeing our crew will provide care while removing items from any location within the property. Moving has never been easier: simply point us to what you want gone – no lifting necessary!
The benefits we offer over dumpster rental make this decision easy – two dedicated crew members onsite with a truck can quickly remove materials in one day's time, including things commonly excluded by dumpsters like bulky items.
Let us take away the hassle of junk removal; call us at 234-600-3317 or book online to get started with a no-pressure quote.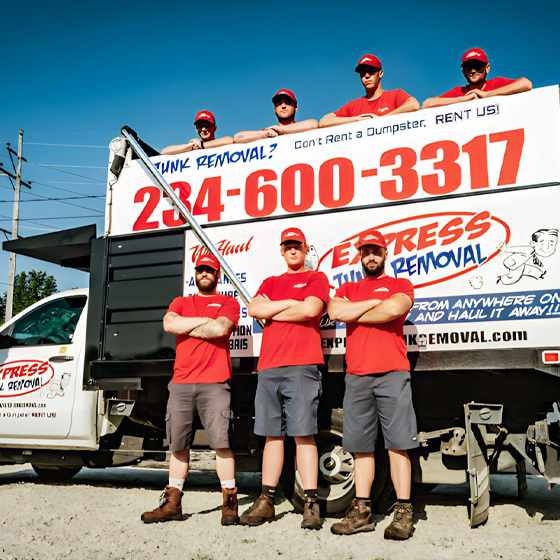 Wardrobe
Chest
Night Stand
Couch / Sofa
Stool
Curio Cabinets
Folding Table
Pedestals
Kitchen Table
Headboard
Dresser
Bookcase
Bench
Love Seat
Accent Tables
Desk
Game Tables
Bedroom Set
Dining Room Table
Futon
Cabinet
Pantry
Chair
Ottoman
Blanket Racks
Drawing Board
Hope Chest
Dinette
Vanity Set
TV / Television
Closet
Hutch
Chaise Lounge
Recliner
Coffee Table
End Table
Nesting Tables
Dining Set
Bed
Record Player Console
Wardrobe, Chest, Night Stand, Couch / Sofa, Stool, Curio Cabinets, Folding Table, Pedestals, Kitchen Table, Headboard, Dresser, Bookcase, Bench, Love Seat, Accent Tables, Desk, Game Tables, Bedroom Set, Dining Room Table, Futon, Cabinet, Pantry, Chair, Ottoman, Blanket Racks, Drawing Board, Hope Chest, Dinette, Vanity Set, TV / Television, Closet, Hutch, Chaise Lounge, Recliner, Coffee Table, End Table, Nesting Tables, Dining Set, Bed, Record Player Console
Refrigerator Removal
Electric Stove
Freezers and Ice Makers
Range Hoods
Warming Drawers
Washing Machine
Hot Water Heater
Electric Cook Top
Venting Systems
Water Softeners
Clothes Dryers
Stackable Washer/Dryer
Air Conditioner
Trash Compactors
Wine Refrigerators
Gas Stove
Dishwasher
Dryer Cabinet
Wall Ovens
Chest Freezers
Refrigerator Removal, Electric Stove, Freezers and Ice Makers, Range Hoods, Warming Drawers, Washing Machine, Hot Water Heater, Electric Cook Top, Venting Systems, Water Softeners, Clothes Dryers, Stackable Washer/Dryer, Air Conditioner, Trash Compactors, Wine Refrigerators, Gas Stove, Dishwasher, Dryer, Cabinet, Wall Ovens, Chest Freezers
Microwave
Garbage Disposals
Water Filters
Track Lighting
Espresso Makers
Food Grinders
Irons
Blender
Room Air Conditioners
Water Dispensers
Blenders
Deep Fryers
Indoor Grills
Toasters
Dorm Refrigerator
Dehumidifiers
Coffee Makers
Juicers
Dehydrators
Skillets
Toaster Ovens
Vacuum Cleaner
Air Purifiers
Electric Heaters
Bread Makers
Food Processors
Griddles
Wine Chillers
Microwave, Garbage Disposals, Water Filters, Track Lighting, Espresso Makers, Food Grinders, Irons, Room Air Conditioners, Water Dispensers, Blenders, Deep Fryers, Indoor Grills, Toasters, Dorm Refrigerator, Dehumidifiers, Coffee Makers, Juicers, Dehydrators, Skillets, Toaster Ovens, Vacuum Cleaner, Air Purifiers, Electric Heaters, Bread Makers, Food Processors, Griddles, Wine Chillers
Branches
Small Tree Stumps
Garden Debris
Yard Waste
Thorn Bushes
Plants
Flowers
Bagged Wood Chips
Leaves
Acorns
Fruits and Vegetables
Weeds / Roots
Brush
Grass Clippings
Twigs and Prunings
Small Logs
Branches, Tree Stumps, Garden Debris, Pet Waste, Thorn Bushes, Plants, Flowers, Wood Chip, Leaves, Acorns, Fruits and Vegetables, Weeds / Roots, Brush, Grass Clippings, Twigs and Prunings, Logs
Televisions
Monitors
Netbooks
Computers
Fax Machines
Circuit Boards
Office Electronics
Video Cameras
Printers
VCR's
Photocopiers
Power Supplies
Stereos
Video Game Consoles
Scanners
DVD Players
Cell Phones
Tablets & E-Readers
Speakers
Laptops
Keyboards
DVR's
Hard Drives
Misc E-Waste
Televisions, Monitors, Netbooks, Computers, Fax Machines, Circuit Boards, Office Electronics, Video Cameras, Printers, VCR's, Photocopiers, Power Supplies, Stereos, Video Game Consoles, Scanners, DVD Players, Cell Phones, Tablets & E-Readers, Speakers, Laptops, Keyboards, DVR's, Hard Drives, Misc E-Waste
Living Room Carpet
Sub-Flooring
Tack Strips
Carpet Padding
Baseboards
Plastic Wrapping
Shag Carpet
Hardwood Floors
Rolled Carpet
Wet Carpet
Tacks and Staples
Stained Carpeting
Living Room Carpet, Sub-Flooring, Tack Strips, Carpet Padding, Baseboards, Plastic Wrapping, Shag Carpet, Hardwood Floors, Rolled Carpet, Wet Carpet Tacks, Stained Carpeting
Trash Removal & Garbage Pickups
Household Trash, Spring Cleaning Trash, Trash From Moving, Spoiled Food
Renovation Debris & Construction Debris
Wood / Lumber
Dried Latex Paint
Bricks
Rocks / Stones
Plumbing Fixtures
Asphalt / Pavement
Cabinets
Metal
Vinyl Siding
Concrete
Wall Coverings
Toilets
Railroad Ties
Bathtubs
Nails
Aluminum Siding
Bags of Soil
Plaster
Sinks
Electrical Wiring
Light fixtures
Roofing Materials
Loose Screws
Bagged Dirt
Drywall
Glass
Piping
Gutters
Wood / Lumber, Dried Paint, Bricks, Rocks / Stones, Plumbing Fixtures, Asphalt / Pavement, Cabinets, Metal, Vinyl Siding, Concrete, Wall Coverings, Toilets, Railroad Ties, Bathtubs, Nails, Aluminum Siding, Soil, Plaster, Sinks, Electrical Wiring, Light Fixtures, Roofing, Shingles, Loose Screws
King Size Mattress
Box Springs
Queen Size Mattress
Memory Foam
Double Size Mattress
Sleep Number
Twin Size Mattress
Pillow Top
King Size Mattress, Box Springs, Queen Size Mattress, Memory Foam, Double Size Mattress, Sleep Number, Twin Size Mattress, Pillow Top
Motorcycle Tires
Four-Wheeler Tires
Car Tires, Snow Tires, Motorcycle Tires, Four-Wheeler Tires, Truck Tires, Trailer Tires, Bicycle Tires, RV Tires
Copy Machine
Cash Registers
Filing Cabinet
Phone Systems
Bulletin Boards
Paper Cutters
Conference Table
Adding Machines
Stationary
Whiteboards
Three Ring Binders
Flip Charts
Cubicle Walls
Storage Cabinet
Office Chairs
Water Coolers
Files and Folders
Dentist Office Equipment
Pallets
Office Plants
Desks & Cubicle Desks
Typewriters
Overhead Projectors
Doctors Office Equipment
Copy Machine, Cash Registers, Filing Cabinets, Phone Systems, Bulletin Boards, Paper Cutters, Conference Tables, Adding Machines, Stationary, Whiteboards, Three Ring Binders, Flip Charts, Cubicle Walls, Storage Cabinets, Office Chairs, Water Coolers, Files and Folders, Dentist Office Equipment, Pallets, Office Plants, Desks & Cubicle Desks, Typewriters, Overhead Projectors, Doctors Office Equipment
Newspaper
Magazines
Tin Cans
Tools
CD's
Exercise Equipment
Sewing Machines
Power Cords
Glass Bottles
Kids Toys
Aluminum Cans
Bicycles
VHS Tapes
Cardboard Boxes
Storm Doors
Kitchen Utensils
Plastic Bottles
Phone Books
Old Clothing
Roller Skates
DVD's
Pillows
Window Screens
Pots & Pans
Plastic Bags
Mail Order Catalogs
Baseball Cards
Books
Record Albums
Storage Containers
Burn Barrels
Lamps
Newspaper Magazines, Tin Cans, Tools, CD's, Exercise Equipment, Sewing Machines, Power Cords, Glass Bottles, Kids Toys, Aluminum Cans, Bicycles, VHS Tapes, Cardboard Boxes, Storm Doors, Kitchen Utensils, Plastic Bottles, Phone Books, Old Clothing, Roller Skates, DVD's, Pillows, Window Screens, Pots & Pans, Plastic Bags, Mail Order Catalogs, Baseball Cards, Books, Record Albums, Storage Containers, Burn Barrels, Lamps
Vehicles, Boats & RVs
Mobile Homes
Asbestos
Oil-Based Paint, Stain or Thinner
55 Gallon Drums
Biological or Medical Waste
Human or Animal Waste
Anything With Oil, Fuel or Chemicals
Vehicles, Boats & RVs, Pianos, Asbestos, Oil-Based Paint, Stain or Thinner, 55 Gallon Drums, Biological or Medical Waste, Human or Animal Waste, Anything With Oil, Fuel or Chemicals