Reliable Furniture Removal Services
fast & easy old furniture removal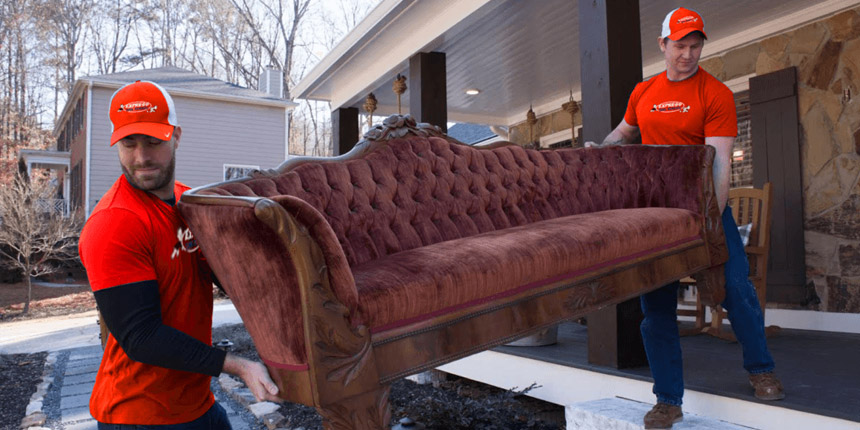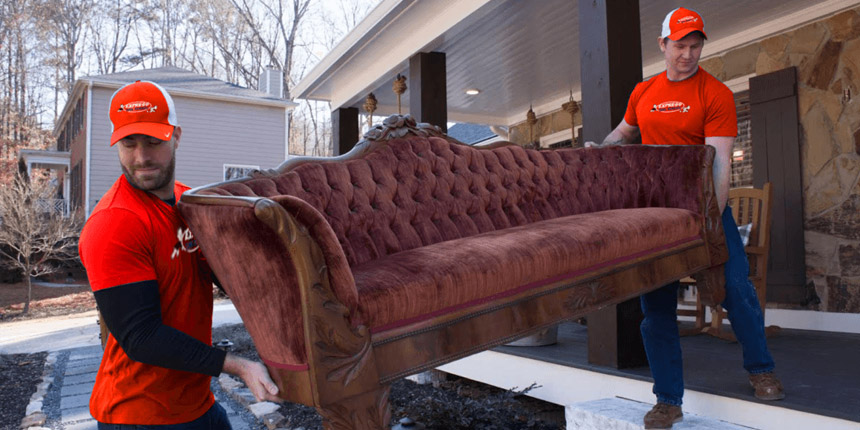 When you are ready to get rid of that old furniture, there are so many things to think about: Can I lift the heavy pieces? Where can I get some extra help? How can I protect my property? Where do I get a truck? Where will I take it? How much will it cost?
Save yourself the pain and frustration of trying to get rid of your unwanted items on your own. At Express Junk Removal, we know most people don't have the time, equipment or capability of removing bulky furniture from their home or place of business. That's where we come in.
Our furniture removal, donation and recycling services involve hauling away furniture of any and all types, often donating them to charity on your behalf. A large part of our business involves the removal of furniture.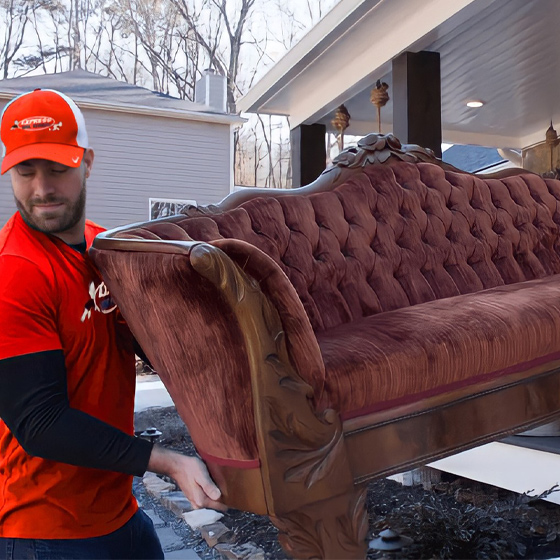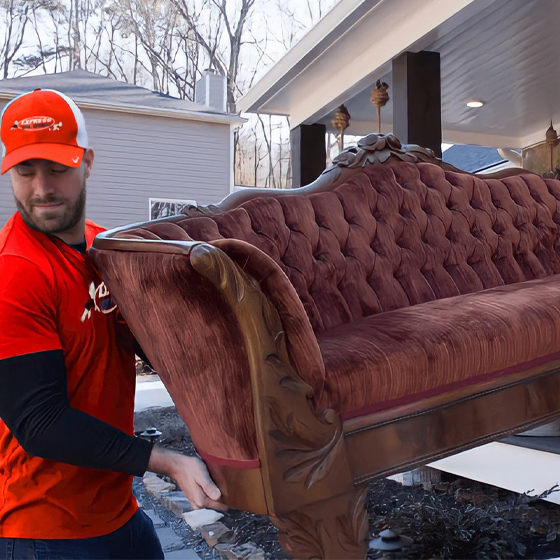 Need Furniture Removal Now?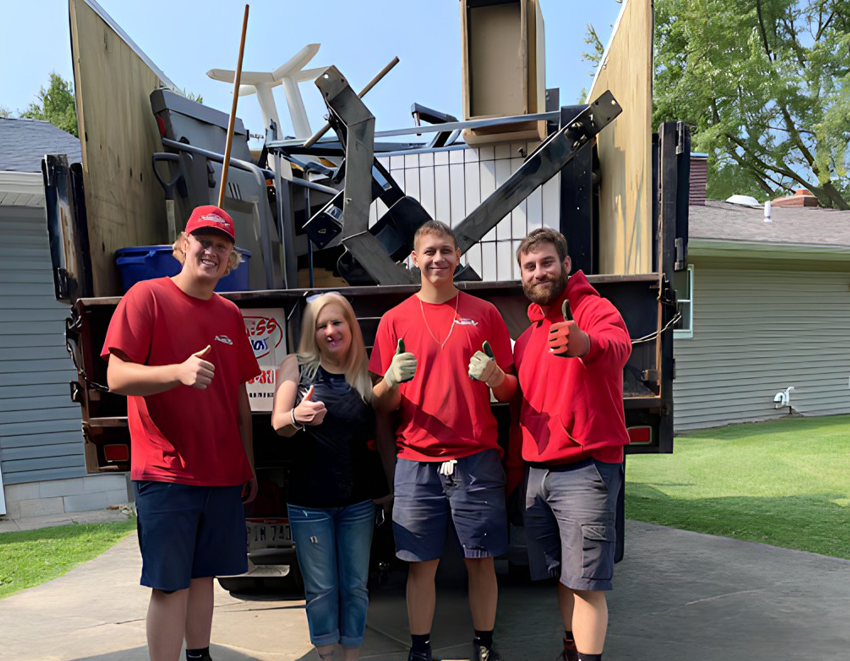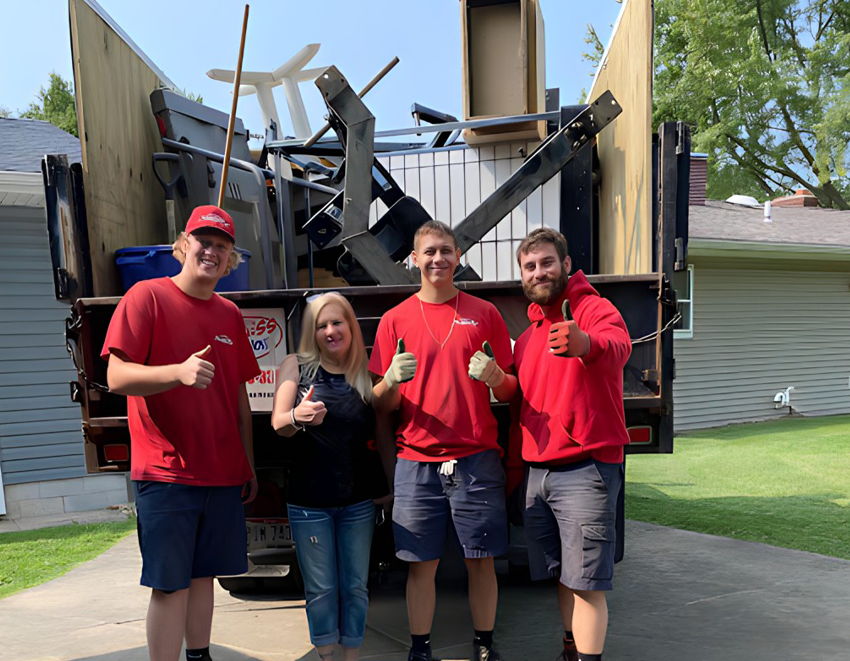 Express Junk Removal Makes Getting Rid of old furniture easy!

Schedule an Appointment
Call, text, or book online to schedule an on-site FREE estimate with NO OBLIGATION to hire.

We'll Call When We're on The Way
Your friendly, professional, uniformed team will arrive on time in one of our clean junk removal trucks. Your Team Captain will always present you with a price before doing any work.

We Arrive & Do ALL Labor & Loading
No matter where your stuff is located, we'll get it – even from your attic, basement, or backyard!
We remove Most types of furniture, including:
Couches
Sofas & Sofa Beds
Mattresses
Chairs
Tables
Bookcases
Cubicles
Desks
File Cabinets
Boxes
Armories
Tool Units
Patio Furniture
Wall Units
Entertainment Centers
Dressers
Couches,  Sofas, Sofa Beds, Mattresses, Chairs, Tables, Bookcases, Cubicles, Desks, File Cabinets, Boxes, Armories, Tool Units, Patio Furniture, Wall Units, Entertainment Centers, Dressers
Express Junk Removal can haul away that furniture for you!
Express Junk Removal provides an efficient, safe and eco-friendly furniture removal service so you don't need to worry about the pick up or disposal of those old items. Not only that, but we make sure that your old furniture items end up in the right place: whether it be a charity if the pieces of furniture are still in good shape for a donation, or a recycling facility to ensure your furniture is disposed of in an eco-friendly way.
Old furniture removal is an on-demand service for having just about any type of furniture removed from your home or business. In addition to furniture, Express Junk Removal can take pretty much everything and anything (except hazardous waste).
​We guarantee friendly customer service and a job well-done, every time. And our eco-friendly mission drives us to make sure as much of your furniture gets recycled or donated as possible. We are the only company to operate our business with a local sorting facility with the goal of recycling 60 percent or more of every job!
​With Express Junk Removal, you can expect an easy process, the lowest rates, and the highest quality of service. In fact, we are currently ranked #1 in junk removal across Trumbull & Mahoning county!
If you have upgraded your furnishings, or maybe you have to downsize, you are probably thinking of how to best get rid of old furniture pieces without hauling them around yourself. Although some people do end up taking furniture to the curb and placing a "free" sign on them, more often than not most homeowners usually end up taking their old things to the city or county landfill.
We take ANYTHING and EVERYTHING except hazardous waste.*
Find out what Junk We Take to see exactly what we do and don't take.
How Much Does Furniture Removal Cost?
As a home or business owner with a large amount of furniture to get rid of, you have a lot of options to choose from. However, aside from doing it yourselves, a great alternative is to hire a professional furniture removal service, like Express Junk Removal.
​When it comes to furniture removal cost, we make pricing both fair and easy. For our full-service junk hauling, we offer a couple different ways to get an estimate or an actual quote.
​The best and most accurate way for us to assess the job and offer you the lowest price is with a free, no obligation, on-site estimate. When we are on-site, we can see exactly what the job will require. This way we can give you an immediate, accurate, and fair price for your junk removal job. And, when we know you're happy with the price, we can often complete the job right then and there.
​If you can take a photo of your items, you can text it to us at 234-600-3317, and we will text back an estimate. If your furniture items are in different locations in your place of business, you can send us multiple photos and we will be able to provide you with an estimate. Please note that this is still an estimate only and is not an actual price. Once we arrive on site, however, our removal teams will give you a firm, no obligation price.
Are You Fully Insured?
Any professional and reputable hauling firm will be fully insured and bonded. This also serves as one indicator of a company's reliability: certified companies must maintain set levels of competence to retain their insurance – and their reputation. Express Junk Removal is fully insured, so you and our staff are protected when we perform junk hauling services.
​It's also good to know you're fully protected if anything should get damaged in the process. Remember, you are risking disaster if you hire a company that is not insured.
Can Furniture be Recycled?
When it comes to disposing of furniture, recycle, reuse, reduce certainly applies. As our children know well these three terms are often used when talking about waste. Recycling is using trash to remake new goods that can be sold again. reusing is finding a new way to use trash so that we don't have to throw it out, and reducing is cutting back on the amount of trash we make.
​And recycling is definitely a viable option when you need to get rid of your old pieces. Most of the time!
​Because there can be questionable materials inside of some furniture pieces, which we address at length in the next section, recycling is not always an option. But the good news is that most furniture can be recycled most of the time.
​So, why should you consider recycling your furniture and what are the benefits?
Recycling conserves finite natural resources, which is critical as the population grows

Recycling conserves up to 95% of the freshwater used to process many materials

Recycling prevents waste from going into oceans

Protects forests which help to reduce CO2 emissions

Reduces use of fossil fuel energy, which reduces CO2 emissions

​Whether it's simply a matter of needing to downsize and get rid of some furniture, or you have to replace household items like old furniture, recycling these pieces is a great option.

In addition, things break, wear out, or unusable.
​The default choice is to simply toss things out. But adding to the municipal waste stream and the local landfill isn't really the best choice.
​With a little planning and forethought, much of our old household or office furniture can be utilized or disposed of in other ways, like being sent to a recycle center.
Is it Difficult to Recycle Furniture?
Recycling furniture present a few challenges when it comes to hazardous materials. Many lower-end pieces of furniture such as tables, office chairs, desks and cabinets are made of treated wood or wood-based composites, and often have veneers of man-made materials.
​This creates problems when recycling these pieces. These materials cannot be used for the more common applications like mulch and so one because of the chemicals in the varnishes, paints, adhesives and other wood treatment products.
​So, unless you have very old furniture, or very high-end all-wood furniture, it is likely to be constructed with less-expensive particleboard and chipboard materials. The problem is that these products are not recyclable.
​Some communities do have programs for processing treated wood and similar materials. If you find, however, that there are no programs in your area that accepts treated wood the best option for these types of furniture is to find a new home for them or find a way to reuse or repurpose them.
​When it comes to almost every sofa, couch, recliner, or padded office chair manufactured has the same problem with the materials in the cushions. These are usually difficult to recycle since the materials are often toxic.
​Fortunately, you often can recycle the cushions if they are made of polyurethane foam and you can find a commercial source for recycling. Unfortunately, many municipal recycling facilities do not take any type of foam materials.
​On the other hand, since the remainder of the furniture piece will likely be made of wood, fabric, plastic and metal, most of these materials can be easily recycled once you have dismantled the item.
What Should I Do With Old Office Furniture?
When it comes to office furniture disposal the easiest answer might seem to be to simply take everything to the local landfill. But it's easy to overlook the fact that this can involve a great deal of labor, logistics, time and money. In addition, it requires vehicles suitable for the task and having enough personnel available to remove and haul away the old furniture items.
​Another option is to donate your old office furniture. While this can be a beneficial choice for the organization you donate to, it can still require a great amount of effort to do so efficiently. And, if yours is an especially large facility or you have numerous offices that are being upgraded or relocated, the task becomes exponentially more complicated.
​A better option can be to choose the professional route and hire a furniture removal firm, like the folks at Express Junk Removal. With a professional team working with you, the job will be done quickly, efficiently, and competently. And you won't have to concern yourself with municipal dumping fees or waiting in line at the landfill.
​Recycling and repurposing of appropriate items will be taken care of for you, so you can have the satisfaction of helping the environment, but without having to deal with the logistics of where to take which items, and so forth.
​With our competent and well-trained team, we will ensure that every item that can and should be recycled is taken care of accordingly.
How Long Will It Take to Remove My Junk?
A good junk removal company will be able to arrange a pickup within a few days or even hours. The length of time will depend on the amount of business the company has booked. With Express Junk Removal, not only can we be onsite within a short time from your call, but when our truck shows up on time at your location we will provide you with a free written estimate. If you're happy with the estimate, in most cases we can haul your items right then and there.
​Check if the company has online reservation options or discounts. Make sure they have the appropriate equipment and labor to get the job done in an appropriate time frame – and that they confirm the appointment and arrival time once the job is booked.
Do You Rent Dumpsters?
Even if you're not sure if you need a dumpster rental, it's good to have the option. Because you can often save money by renting a dumpster and filling it up yourself, this can be one solution for removing your furniture. Although this may work with smaller items like kitchen chairs or coffee table, it might not be ideal for large furniture.