Professional Basement Clean out Services
Basement junk removal & decluttering by Express Junk Removal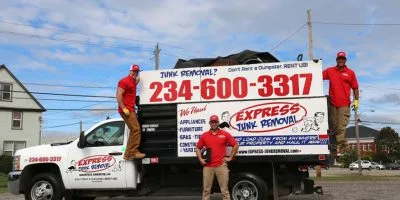 Are you tired of dealing with a cluttered and disorganized basement? Look no further than Express Junk Removal for professional and reliable basement cleanout services. With our experienced team and commitment to customer satisfaction, we are here to transform your basement into a clean, functional, and organized space.
We understand that basements often become a dumping ground for unwanted items, clutter, and debris over time. Our dedicated team is here to help you reclaim your space, providing professional basement cleanout services that are tailored to your specific needs. Say goodbye to the mess and hello to a clean and organized basement with Express Junk Removal.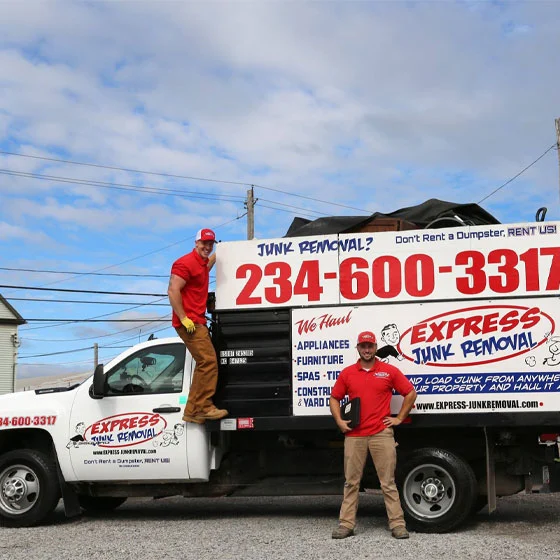 Our Basement Clean Out Process
Free Consultation and Assessment: We begin by understanding your specific needs and requirements through a free consultation. Our team will assess the scope of the project, discuss your goals, and provide a customized plan tailored to your basement cleanout needs.
Efficient Removal and Cleanup: On the scheduled day, our team will arrive with the necessary equipment and vehicles to efficiently remove all unwanted items from your basement. We take care to protect your property during the cleanout process, ensuring a smooth and hassle-free experience.
Responsible Disposal: Express Junk Removal prioritizes responsible waste management. After removing the clutter from your basement, we sort the items and dispose of them responsibly. Our commitment to eco-friendly practices ensures that recyclable items are sent for recycling, reducing the environmental impact.
Thorough Cleaning: Once the unwanted items have been removed, our team will perform a thorough cleaning of your basement. We leave no stone unturned, ensuring that your basement is left in a pristine condition.
What other services does Express Junk Removal assist with?
Basement Clean Out Savings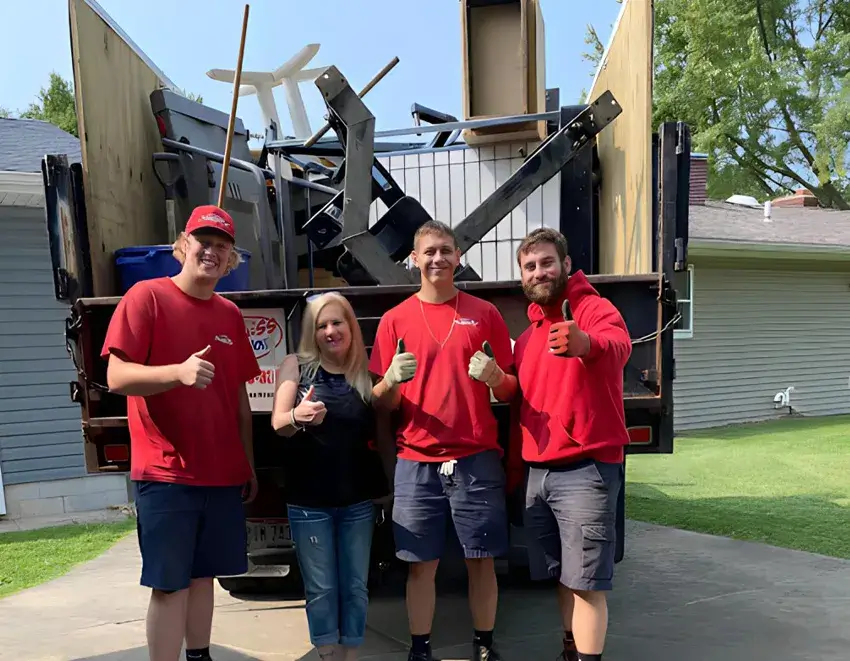 Our Basement Clean Out Service is easy as 1, 2, 3

Schedule an Appointment
Call, text, or book online to schedule an on-site FREE estimate with NO OBLIGATION to hire.

We'll Call When We're on The Way
Your friendly, professional, uniformed team will arrive on time in one of our clean junk removal trucks. Your Team Captain will always present you with a price before doing any work.

We Arrive & Do ALL Labor & Loading
No matter where your stuff is located, we'll get it – even from your attic, basement, or backyard!
Why should I hire a professional for basement cleanout instead of doing it myself?
While it may be tempting to tackle a basement cleanout on your own, hiring professionals offers several advantages. Our experienced team has the expertise and equipment to efficiently handle heavy lifting, safely remove clutter, and ensure proper disposal. We save you time, effort, and potential injury, while delivering high-quality results.
What items can you remove during a basement cleanout?
Express Junk Removal can remove a wide range of items during a basement cleanout, including old furniture, appliances, electronics, construction debris, carpets, boxes, and general clutter. Our goal is to clear out your basement completely, leaving you with a clean and organized space.
Do I need to prepare the items for removal?
It is best to know exactly what needs to be removed prior to starting the removal process. Call for help on how to go about that. We'll carefully sort through your basement, removing and organizing items for proper disposal or recycling. You can sit back and relax while we take care of everything.
What happens to the items you remove during the cleanout?
At Express Junk Removal, we prioritize eco-friendly practices. We sort through the items we remove and donate or recycle whenever possible. Items that cannot be recycled or donated are disposed of responsibly in accordance with local regulations. We strive to minimize our environmental impact and ensure sustainable waste management.
How long does a basement cleanout take?
The duration of a basement cleanout depends on various factors such as the size of the basement, the amount of clutter, and the complexity of the project. Our experienced team works efficiently to complete the cleanout as quickly as possible. We'll provide you with an estimate of the time required during the initial consultation.