Dumpster Rental Alternative
Express Junk Removal is Your Local Dumpster Rental Alternative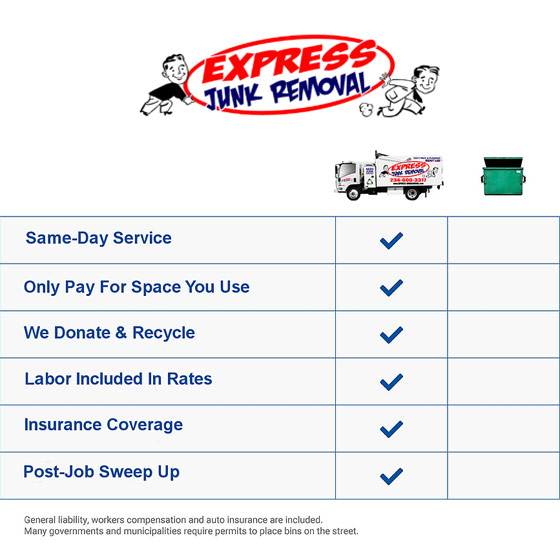 When you're renovating, cleaning out an entire home, downsizing, or just happen to have a lot of junk to get rid of, dumpster rental might seem like a great idea. However, renting a dumpster often becomes more of a hassle than a convenience. Dumpsters take up space on or in front of your property for days or weeks and often need permits to use. To top it off, you have to load it up on your own. That's a lot of heavy lifting!
Express Junk Removal provides a safe, eco-friendly and efficient dumpster alternative service to make the whole process easy for you. Our experienced team members will have the strength to haul off any junk they can safely lift without damaging your home on the way out. You won't need to struggle to carry the items to the dumpster yourself. We handle all the heavy lifting and loading.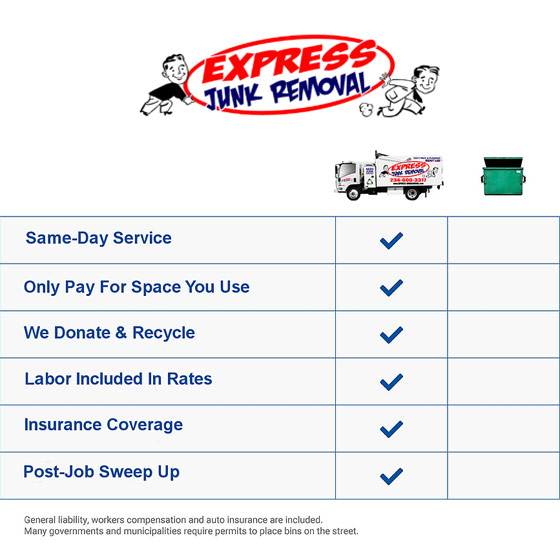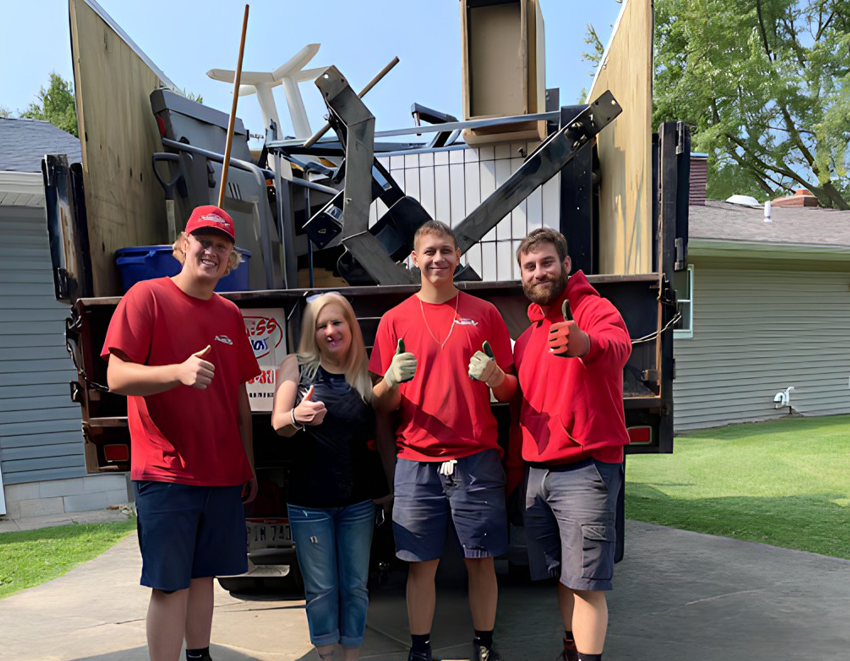 Hiring Express Is Easier & Faster Than Renting A Dumpster

Schedule an Appointment
Call, text, or book online to schedule an on-site FREE estimate with NO OBLIGATION to hire.

We'll Call When We're on The Way
Your friendly, professional, uniformed team will arrive on time in one of our clean junk removal trucks. Your Team Captain will always present you with a price before doing any work.

We Arrive & Do ALL Labor & Loading
No matter where your stuff is located, we'll get it – even from your attic, basement, or backyard!
Dumpster Rental Alternative FAQ
How much does it cost to rent a dumpster?
Dumpster rental prices can vary. There are several factors that affect the price, including:
Where you are located?
How long you need the rental for?
How much junk you have?
What type of junk you have?
These factors can be hard to estimate before you haul your junk away, meaning there's no real way to figure out the exact rental cost. The following are average price ranges for dumpster rentals:
Average cost (National): $428
Minimum cost: $200
Maximum cost: $1000
Average price range (National): $279 – $503
Are dumpster rentals expensive?
Yes, dumpster rentals can often end up being more expensive than you think. Not only do you pay for the dumpster rental itself, you'll also be charged a disposal fee based on the weight of the junk you put into it. Since it's hard to estimate how much your stuff will weigh before you put it in, this cost can end up being more expensive than you anticipated. Rental companies also frequently charge based on the duration of the rental, which can add up quickly depending on the size of your job!
What is the average dumpster rental rate?
The average dumpster rental cost in the United States is $428. The cost depends on the company you deal with and how they charge. Some companies charge a flat-rate while others charge by the space you need or plan to fill.
Do I need to load it myself?
Yes, when you work with a dumpster rental company, you have to do all the heavy lifting yourself. That's a tough job for anyone, especially if you have larger items to lift. And if the rental company has restrictions on what you can actually place in the dumpster, you may end up not getting rid of everything.
Why are dumpster rentals problematic?
Dumpsters are often more inconvenient than useful. First, renting a dumpster is usually expensive, thanks to delivery and dumpster removal fees. Second, the space that the dumpster takes up can be an inconvenience by obstructing your driveway or street and drawing your neighbors' attention to your yard. Dumpster rental also requires you to do all the heavy lifting on your own, which is not ideal.