Bigger Trucks, Better Pricing
 Junk removal pricing is based on volume, meaning how much junk you have and how much space it takes up. The more junk you have, the better the VALUE. We pride ourselves on having the absolute best bang for your buck! Our trucks are 20% bigger than the competition.
Express Junk Removal has a unique pricing structure. Our junk removal prices are all-inclusive, which means you get:
Two professional, uniformed and insured crew members
Junk removal from anywhere on the property or in the home
Loading, lifting and sorting
Recycling, donating and disposing of items
Disposal tariffs and fees
Gas, travel and all other transportation fees
We charge by the amount of space your trash takes up and how much you have. We think it's more fair to you to price by volume instead of the length of time it takes us to lift and load. The best part is we're cheaper in bulk: the more stuff you have, the more value you get! ​

Express Junk Removal Makes it As Simple As 1, 2, 3!

Schedule an Appointment
Call, text, or book online to schedule an on-site FREE estimate with NO OBLIGATION to hire.

We'll Call When We're on The Way
Your friendly, professional, uniformed team will arrive on time in one of our clean junk removal trucks. Your Team Captain will always present you with a price before doing any work.

We Arrive & Do ALL Labor & Loading
No matter where your stuff is located, we'll get it – even from your attic, basement, or backyard!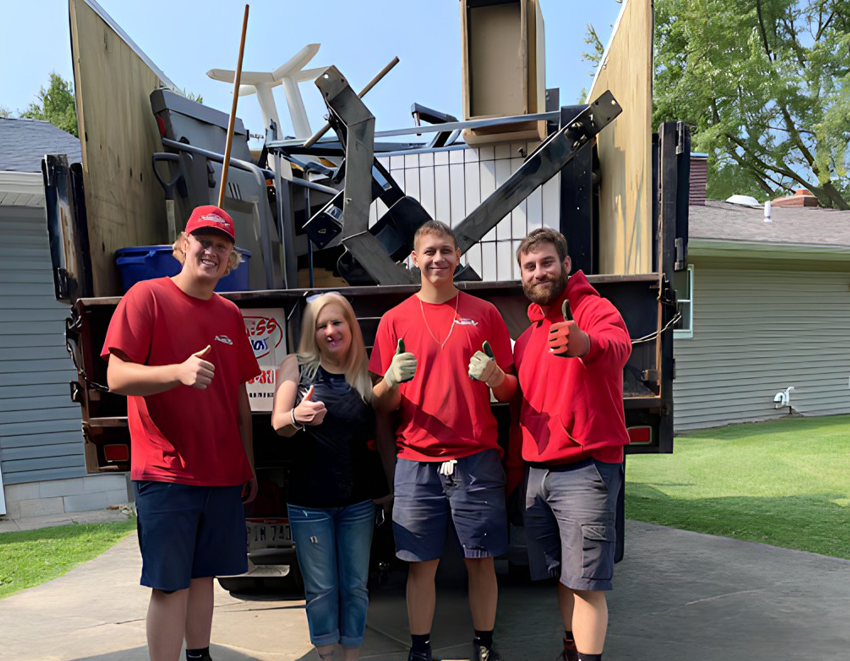 Express Junk Removal Pricing FAQ
What payment options does Express Junk Removal offer?
We accept Visa, Mastercard, Amex, Discover, debit, checks, cash and PayPal transfers.
How do coupons work?
When you book your appointment, please tell the phone team member (or include in your online comments) that you'd like to use a coupon. Make sure you have it with you when we arrive to do the work, and present it to the crew before we start to ensure we can honor the discount.
Does your crew accept tips?
Yes! If you think the crew did a good job and you'd like to recognize their hard work, tips are always appreciated.
How do I schedule junk removal appointment?
We offer a variety of ways to schedule your stress-free service:
Book Online: Just click right here to book online instantly!
Call Us: Give us a call, 234-600-3317.