The #1 Rated Junk Removal Service
Trusted throughout the greater Warren-Youngstown area for our superior service, value & effort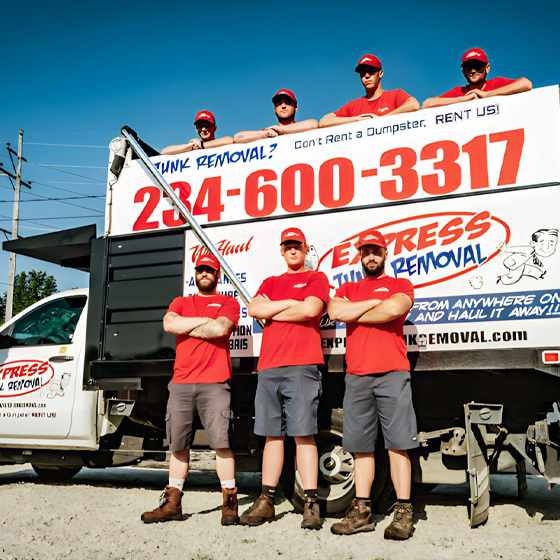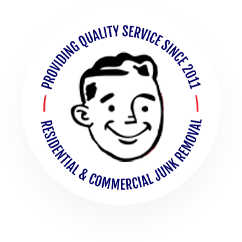 Don't Rent a Dumpster… Rent Us!
Express Junk Removal is the perfect solution for all your trash & junk removal needs! When you hire our highly skilled, insured professionals, the only finger you have to lift is the one that points us to the junk, we'll take care of the rest. We provide an efficient and speedy cleanout of any unwanted items – no messy or unsightly dumpsters required!
Two crew members with a truck will arrive to quickly clear out whatever waste you may have in one day. Our team of insured professionals swiftly and safely removes all unwanted items from anywhere within the property, allowing you to enjoy peace-of-mind without lifting even one finger.
Why bother with renting an unsightly dumpster that takes up space in your driveway when Express Junk Removal offers prompt service at affordable rates – plus takes bulky items not accepted by most conventional waste collection services.

Express Junk Removal Makes it As Simple As 1, 2, 3!

Schedule an Appointment
Call, text, or book online to schedule an on-site FREE estimate with NO OBLIGATION to hire.

We'll Call When We're on The Way
Your friendly, professional, uniformed team will arrive on time in one of our clean junk removal trucks. Your Team Captain will always present you with a price before doing any work.

We Arrive & Do ALL Labor & Loading
No matter where your stuff is located, we'll get it – even from your attic, basement, or backyard!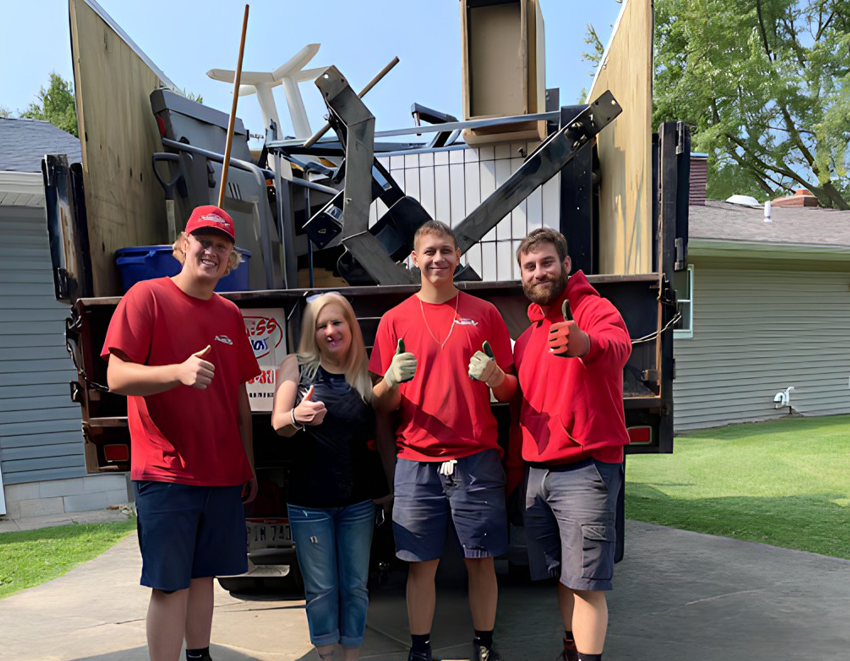 Why Choose Express Junk removal?
Express Junk Removal has been providing reliable, quality services to residents in the Warren-Youngtown area since 2011. With our superior service and top-notch customer satisfaction, we have become the region's leader in junk removal services.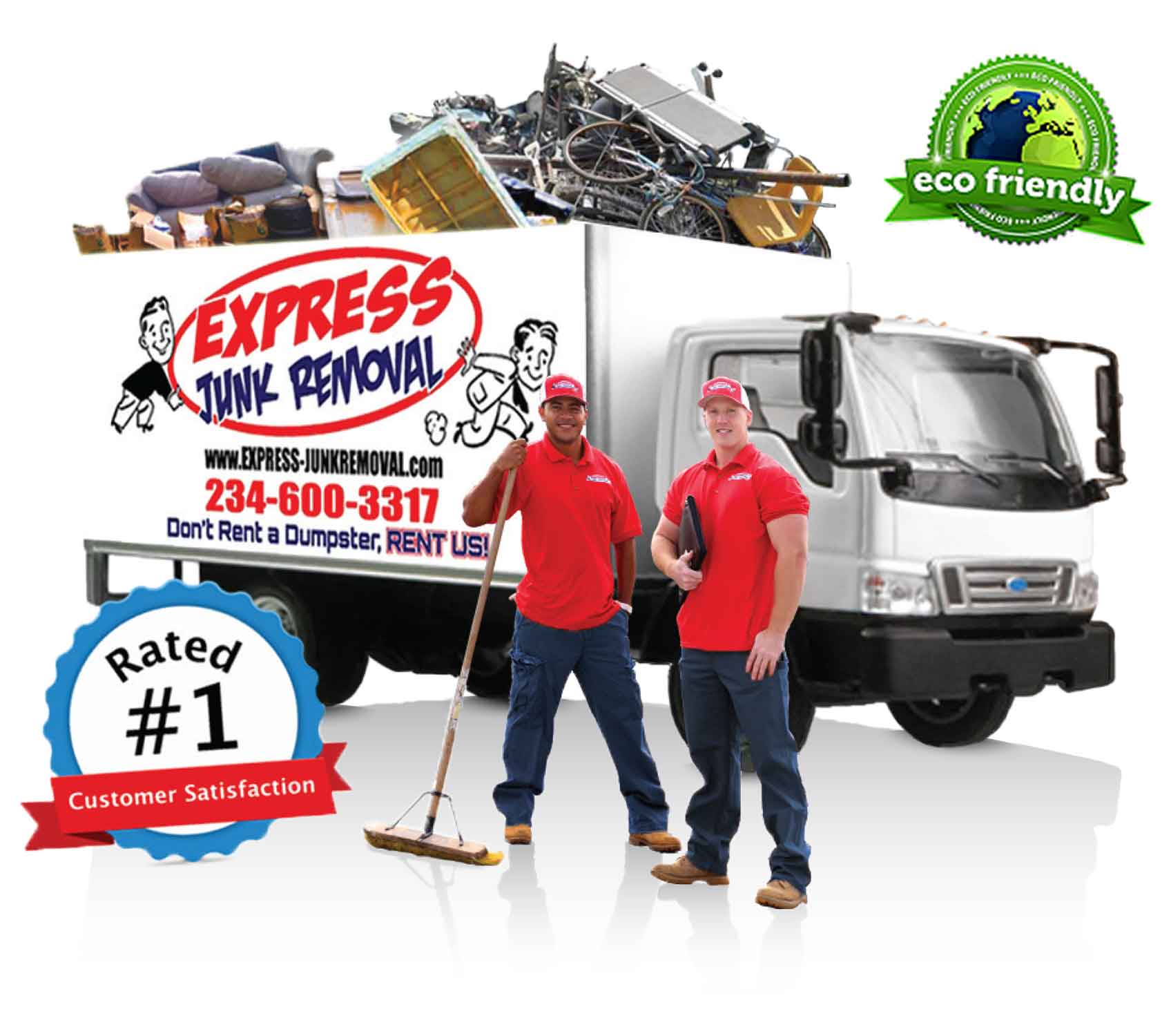 Junk Removal Warren-Youngstown Trusts
We donate and recycle more than HALF of everything we haul away
You get a tax-deductible receipt for all of the items we can donate
Our crews are friendly and well-trained professionals you will feel comfortable around
Our prices are upfront and transparent before the job begins
We are always on time and call when we are on our way
We make follow-up calls to make sure you are completely satisfied
We are locally owned and operated, NOT a franchise
Book with us online or call us to speak with a live customer service rep
Our Junk removal Services
What junk does Express Junk Removal take? Most things! Click here to view a list of what we take.
We had a truck and 2 men come out to help with a clean out of a small house, in an hour and a half they got rid of 2 rooms full of stuff and saved us a whole lot of work. Very professional, fast, and friendly. We felt it was a good value as well.
This is the 2nd time I have used Express Junk Removal to clear out trash from a client's home. They are extremely compassionate and professional. I strongly recommend them and will keep recommending them to future clients.
They were great! So responsive – I got a text when I first called and they weren't able to answer! They arrived right on time and were done quickly. They even swept up after they got rid of all the junk. And they charged a very fair price. Thanks guys!!
Caring About the Environment & Our Community
Our 3-step disposal process is the bread & butter of our business: 1) Donate 2) Recycle 3) Dispose
At Express Junk Removal, we have one simple goal: To be the leading Donate–Recycle-Dispose Company that delivers the best client experience and makes the biggest difference in its community and its environment. For hauling and junk removal, let us show you why we're the fastest-growing company in our industry for Youngstown, OH and the surrounding areas.
Express Junk Removal collects and sorts your items, finding the perfect solution to help the community without hurting the environment. What you may see as trash can often be utilized by someone else.
When you donate items from your home or office, not only do our services help balance out the cost but we also guarantee that a tax-deductible receipt will arrive within 14 business days! Give back while getting something in return – donating can be beneficial for everyone.

We take ANYTHING and EVERYTHING except hazardous waste.*
Click Here to see exactly what we do and don't take