Appliance Removal Services
Eco-Friendly Appliance Removal & Recycling Services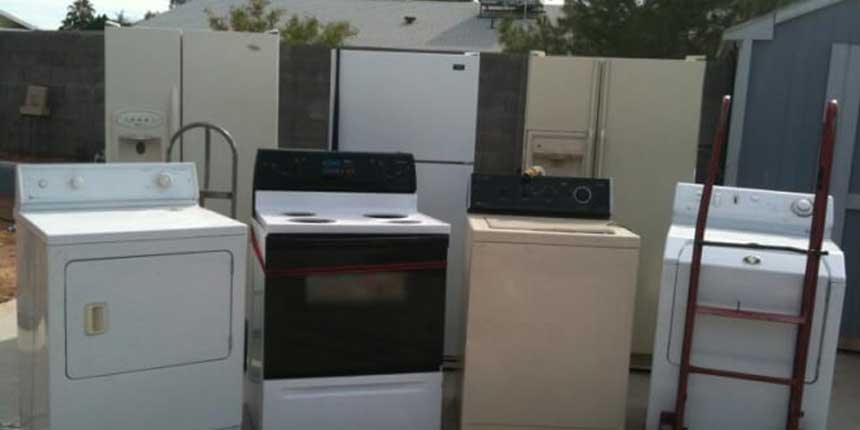 Disposing of your old appliances is not an easy task, both in labor and process. You can't just dump an appliance; it must be handled in accordance with waste removal requirements and sensitivity to the environment.
There are no appliances too large or bulky for our men to handle. Let us do the heavy lifting for you in a fast, convenient and economical manner. We can haul away all major household appliances and commercial appliances, handling them using eco-friendly methods. This is all a part of our professional appliance removal services.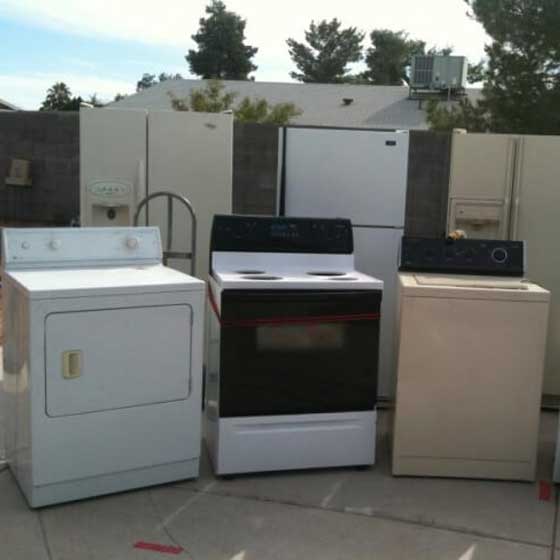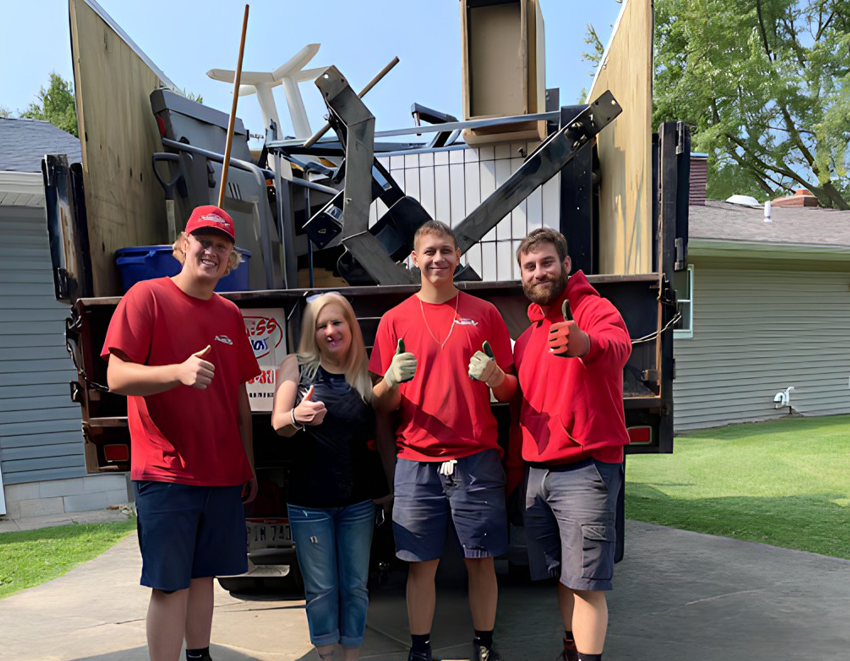 Express Junk Removal Makes it easy to get rid of old appliances!

Schedule an Appointment
Call, text, or book online to schedule an on-site FREE estimate with NO OBLIGATION to hire.

We'll Call When We're on The Way
Your friendly, professional, uniformed team will arrive on time in one of our clean junk removal trucks. Your Team Captain will always present you with a price before doing any work.

We Arrive & Do ALL Labor & Loading
No matter where your stuff is located, we'll get it – even from your attic, basement, or backyard!
We can safely remove, haul away & recycle all major appliances
Air Conditioners
Dishwashers
Washing Machines
Dryers
Ranges
Stoves
Ovens
Kitchen Appliances
Refrigerators
Freezers
Water Heaters
Televisions
Computers
Monitors
Printers
Copiers
Couches,  Sofas, Sofa Beds, Mattresses, Chairs, Tables, Bookcases, Cubicles, Desks, File Cabinets, Boxes, Armories, Tool Units, Patio Furniture, Wall Units, Entertainment Centers, Dressers
Our Service Areas
Express Junk Removal serves the Mahoning Valley including the following cities and areas:
Our Service Areas
Express Junk Removal serves the Mahoning Valley including the following cities and areas:
Youngstown, Campbell, Struthers, Boardman, Poland, Coitsville, Austintown, Lake Milton, North Jackson, Canfield, Warren, Niles, Girard, Liberty, Hubbard, Weathersfield, Newton Falls, Braceville, Southington, Champion, Bristolville, Cortland, Fowler, Vienna, Howland, Brookfield, Kinsman, West Farmington, Hartford, Masury, Sharon, Hermitage, Farrell, Mineral Ridge, Wheatland, Lowellville, Lordstown and many more.
This is the second time I have used Express. Both times, I received excellent service from very courteous young men. They called about 15 minutes before arrival, were on time, had everything loaded quickly—I highly recommend them!
Two nice, respectful young men were strong and careful to remove old bedroom furniture from second story home. Also took an old couch from the basement…they charge according to the amount of space it requires in the truck. I will definitely call for future removal.
Let Express Junk Removal take care of your old appliances
Is the appliance you are removing still in working condition? If so, there is a good possibility that it can be used as a donation. Unfortunately, most charities will not go into your home to remove the the items. They require that the appliance be placed at the curb for pickup. This can result in damage to the appliance or the dwelling as well as possible injury to you during the move. Express Junk Removal works with several charity partners and, as a part of our removal services, will check to see if any item can be donated. The item will be out of your home or place of business quickly and efficiently without damaging the item or your property. If one of the organizations accepts an unwanted appliance, we will provide you with the receipt for the gift. Schedule your appointment today for appliance removal through the contact form or email. For faster service, call us right now at (234) 600-3317.

We take ANYTHING and EVERYTHING except hazardous waste.*
Click Here to see exactly what we do and don't take
is a quote for appliance removal free?
With Express Junk Removal, you get the power of choice. No strings attached: we provide free quotes with zero obligation – so you can feel secure knowing that if our pricing doesn't meet your expectations, there is no pressure to use us as a service provider!
How much do you charge for appliance removal?
The short answer: it depends on how many appliances you need removed and how much space they take up in our trucks. You don't have to go with the big, expensive junk removal chains; our professionals know how best to remove appliances quickly and efficiently while saving you money!