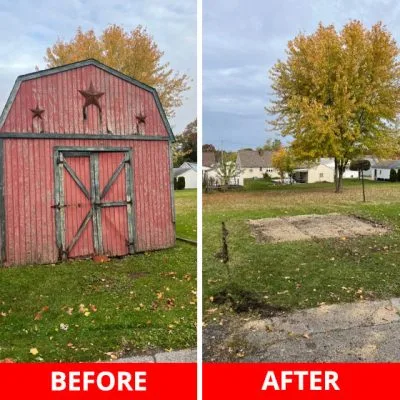 If you have an old, dilapidated shed taking up precious space in your backyard, it's time to consider shed removal. Whether you're looking for "shed removal near me," need a reliable team for "shed demolition and removal," or are concerned about the "shed removal cost," Express Junk Removal is here to provide you with an efficient, affordable, and hassle-free solution. Let's explore how Express Junk Removal can help you reclaim your space and transform your property.
1. Convenient and Local Shed Removal Services:
When it comes to shed removal, finding a local service provider is essential. Express Junk Removal offers shed removal services in your area, making the entire process convenient and hassle-free. No matter where you're located, their skilled team will arrive promptly at your property, ready to tackle the shed removal task with expertise and efficiency.
2. Professional Shed Demolition and Removal:
Shed demolition and removal require careful planning, specialized equipment, and skilled professionals. Express Junk Removal has a team of experts who specialize in shed demolition, ensuring a smooth and safe process from start to finish. Their professionals will assess the structure, determine the best approach for dismantling and removing the shed, and efficiently complete the task, leaving your property clean and clutter-free.
3. Transparent Shed Removal Cost
One of the primary concerns when considering shed removal is the cost involved. Express Junk Removal understands the importance of transparency in pricing. They provide upfront, competitive quotes for their shed removal services, ensuring there are no hidden fees or surprises. Their pricing structure is designed to offer affordability without compromising on the quality of service, making shed removal a cost-effective solution for reclaiming your outdoor space.
4. Eco-Friendly Disposal Options:
At Express Junk Removal, they prioritize environmental responsibility. After the shed is dismantled and removed, they handle the disposal of materials in an eco-friendly manner. They follow proper waste management practices, recycling and donating salvageable items whenever possible. By choosing Express Junk Removal, you contribute to sustainable waste disposal, minimizing the impact on the environment.
5. Customer Satisfaction Guaranteed:
Express Junk Removal is committed to providing exceptional customer service. Their team is dedicated to meeting and exceeding your expectations throughout the shed removal process. From the initial consultation to the final cleanup, they prioritize your satisfaction. By choosing Express Junk Removal, you can trust that your shed removal needs will be handled with professionalism, reliability, and a focus on customer care.
Conclusion:
If you're searching for shed removal services in your area, Express Junk Removal is the go-to solution. Their team of professionals will handle shed demolition and removal efficiently, leaving you with a clutter-free space to transform according to your needs. With transparent pricing, local service, eco-friendly disposal practices, and a commitment to customer satisfaction, Express Junk Removal is the trusted partner you need for shed removal. Reclaim your outdoor space today by choosing Express Junk Removal for all your shed removal needs.
This is the second time I have used Express. Both times, I received excellent service from very courteous young men. They called about 15 minutes before arrival, were on time, had everything loaded quickly—I highly recommend them!
Two nice, respectful young men were strong and careful to remove old bedroom furniture from second story home. Also took an old couch from the basement…they charge according to the amount of space it requires in the truck. I will definitely call for future removal.