$99 Junk Removal Near Me Service In Youngstown-Warren
Express Junk Removal is Your Local $99 Junk Removal Service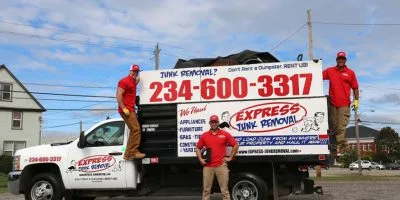 If you're searching for $99 junk removal near me, then you're likely looking for a quick and affordable way to get rid of unwanted items in your home or office. Fortunately, Express Junk Removal can help you with your junk removal needs!
Our $99 junk removal service is a great option for those who need to get rid of a few small items or a single large item. Our team will come to your location, load up your junk, and dispose of it properly, all for just $99. This is a flat fee, so you won't have to worry about any hidden charges or fees.
Our team of experienced professionals is dedicated to providing top-quality junk removal services at an affordable price. We believe that everyone should have access to a clutter-free living and working space, and we're here to help make that happen.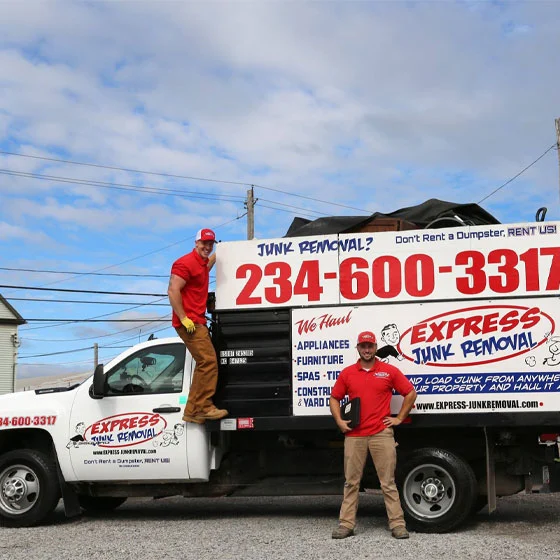 Here's what our $99 junk removal includes
Free On-site evaluation: Our team will come to your location and evaluate the items you need to be removed. We'll let you know if any items require additional fees or special handling.
Loading and hauling: Our team will carefully load your items onto our truck and haul them away. We'll make sure your space is left clean and tidy.
Responsible disposal: We'll dispose of your items responsibly, either by donating them to charity, recycling them, or disposing of them at a licensed waste disposal facility.
Free up valuable space in your yard by entrusting Express Junk Removal with your playset and trampoline removal. Contact us today to schedule your removal appointment and experience the convenience of our professional services. Let us handle the heavy lifting while you enjoy a clutter-free outdoor space.
What other services does Express Junk Removal assist with?
Need $99 Junk Removal Now?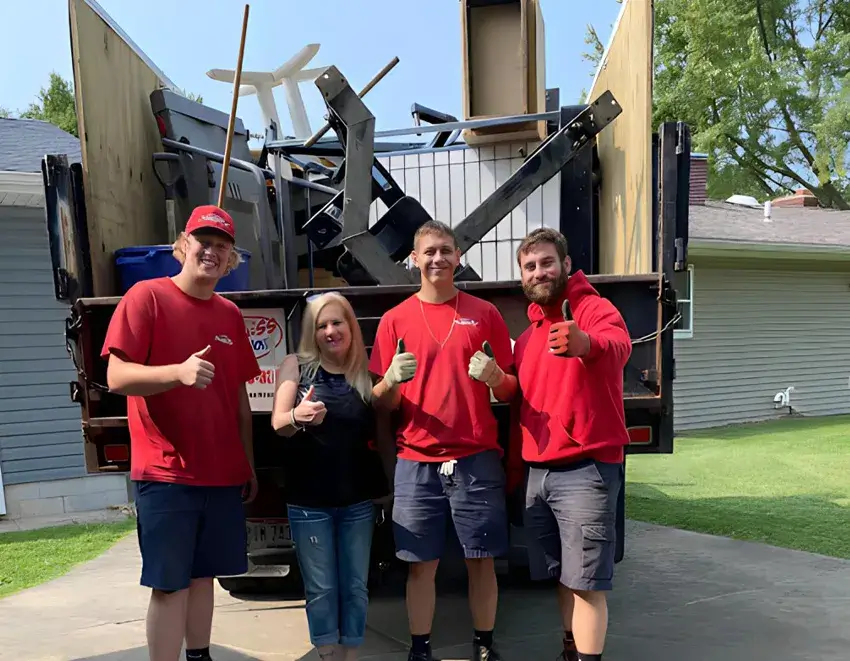 Our $99 Junk Removal service Near you is easy as 1, 2, 3

Schedule an Appointment
Call, text, or book online to schedule an on-site FREE estimate with NO OBLIGATION to hire.

We'll Call When We're on The Way
Your friendly, professional, uniformed team will arrive on time in one of our clean junk removal trucks. Your Team Captain will always present you with a price before doing any work.

We Arrive & Do ALL Labor & Loading
No matter where your stuff is located, we'll get it – even from your attic, basement, or backyard!
what items qualify for $99 Junk Removal?
couch
mattress
box spring
futon
chair
recliner
stove
fridge
stool
loveseat
headboard
& much more!
Do any items not qaulify for $99 junk removal?
Yes, multiple item pickups and very large and heavy items do not qualify. For example, a very large china cabinet made of solid oak would not qualify. If you are unsure if your junk item qualifies, please feel free to contact us today or give us a call at 234-600-3317.
Do you offer this service for less?
If your item is recyclable or donatable, we can often times offer our service at a discounted rate. Location of the item on your property will determine if you qualify for the discount.
Do I need to load it myself?
No! We handle all the heavy lifting and loading from anywhere on your property.
Should I attempt to remove the item myself?
We always recommend hiring professionals when it comes to heavy bulky junk removal. Our professionals are fit and perform this service daily so they have all the tools and techniques to handle your $99 junk removal service with ease.